*Pictures are for information only
Characteristics
SPECIFICATIONS
Chassis/engine: Ford 6.8 L
Dry weight: 4,435 lb. (2,012 kg)
Fuel consumption (approximate): 17 - 20 L/100 km
Length: 23 ft. (7.0 m)
Width: 8.2 ft. (2.5 m)
Interior height: 6.3 ft. (1.9 m)
Automatic transmission
Fuel capacity: 38 gal. (144 L)
Power steering and power brakes
Cruise control
AM/FM radio with CD

CHILD SEATS CAPACITY
Infant sealt (rear facing) : 3
Child seat (front facing) : 3
Booster seat : 3
SLEEPING SPACE
Beds
1 double overcab bed, 5.0 x 6.7 ft. (1.52 x 2.03 m)
1 dinette bed, 3.1 x 5.6 ft. (0.94 x 1.70 m)
FEATURES
Dash and roof air conditioner
Fresh water tank: 25 gal. (94 L)
Grey water tank: 24 gal. (91 L)
Black water tank: 13 gal.(49 L)
Propane tank: 2 x 20 lb. (2 x 9 kg)
Electric ignition 5-gal. (23 L) water heater
Shower + hot water
Flush toilet
6 cu. ft. refrigerator/freezer
3-burner stovetop, oven and microwave
18,000 BTU auto light furnace
BEDDING (OPTION)
Duvet and/or blanket
Pillow & pillow case
Bed sheets
Bath towels
KITCHEN EQUIP. (OPTION)
Kettle, pots and pans, draining board, plates, cutlery set, broom, coffee cups/glasses, hand towels/dishcloths, mixing bowls, salad bowl, assorted kitchen utensils, colander, can opener, corkscrew, cutting board, food savers, basic tool kit, flashlight, instruction manual, road maps/directions, bucket, extra dinner set (guest), dustpan and clothes hangers.
FLOOR PLAN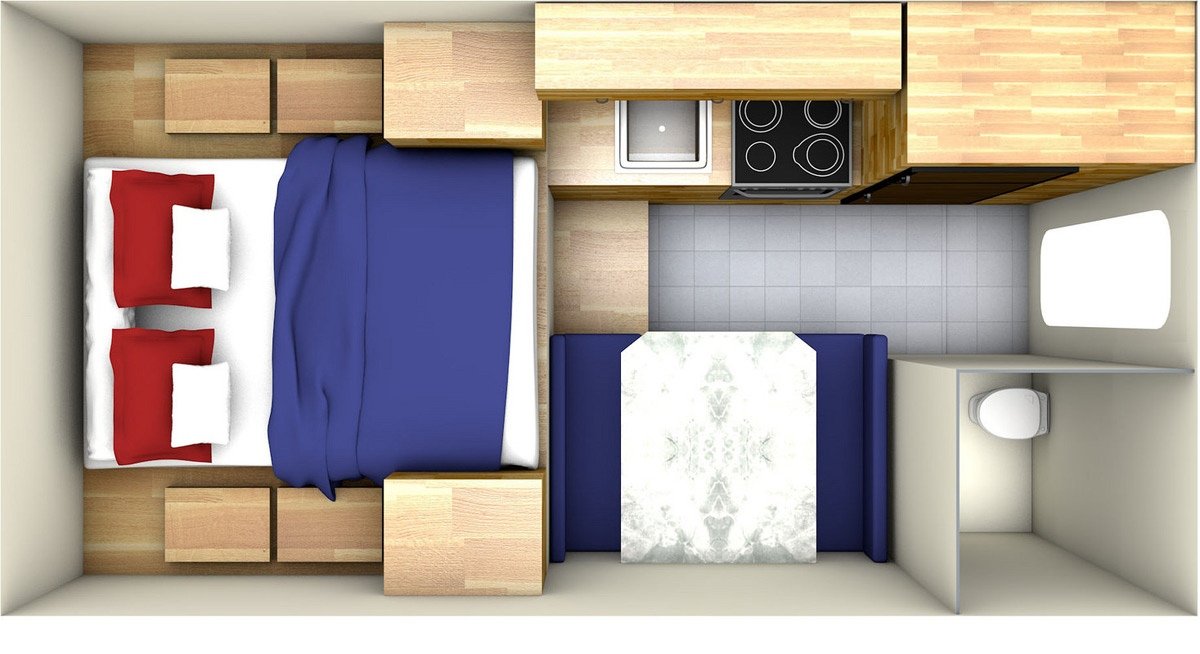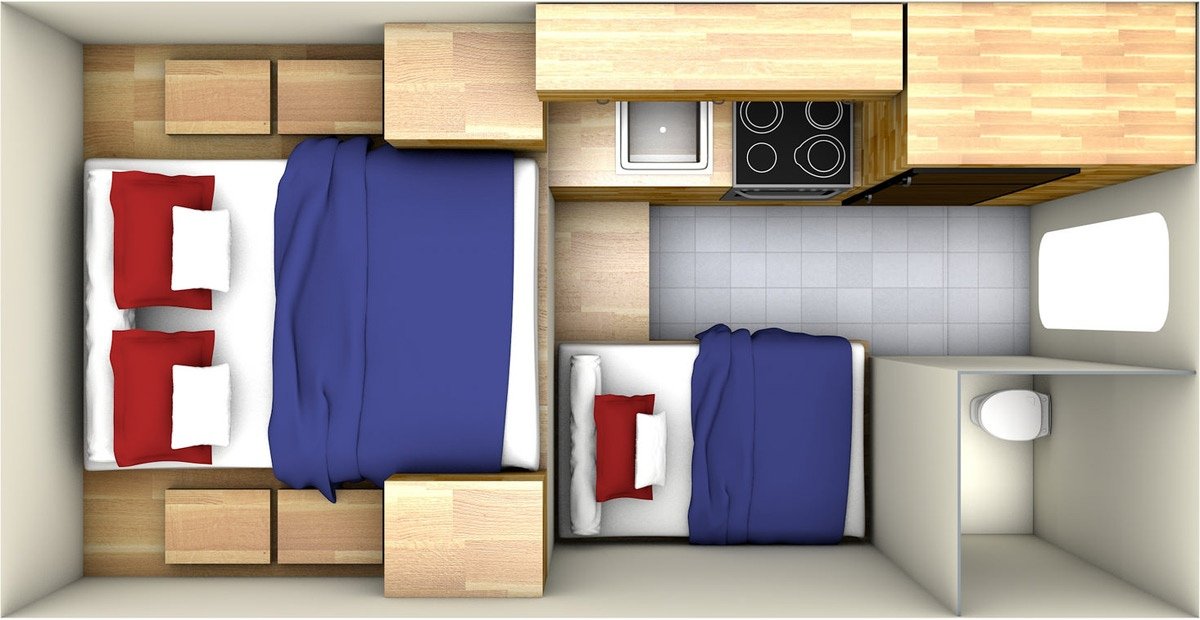 IMPORTANT NOTES:
Actual layout may differ from that shown in the floor plan. There are several types of vehicles for any given category.
The TCA is only available for rental in Calgary, Vancouver and Whitehorse.
Maximum capacity: 2 adults and 1 child (Child = under 12).
Children under 6 months old are permitted.
Minimum age required: 21 years old.
Supplier
Founded in 1995, Canadream is one of Canada 's leading RV rental companies, coast to coast.
Specials on kilometres, bedding and kitchen equipment ensure a reasonable price for a high quality RV. However, these offers are only available with early bookings (before March).
The PROS of Canadream
The supplier with the greatest number of rental locations across Canada , from Halifax to Whitehorse . Highly practical for one-way rental.
High quality, recent vehicle models.
Several specials and promotional offers for clients who book early.
$0 deductible option in the event of vehicle damage (available only on Authentik Canada 's website).
Impeccable service.
ROF (Run of Fleet) option provides significant savings for flexible travellers. The exact vehicle is known only at pick-up.
Most of the locations are open on Sundays during summer time.
The CONS of Canadream
Vehicle availability in high season is quite limited, especially for last-minute bookings (April or later).
The morning pick-up and afternoon drop-off option is somewhat expensive.