*Pictures are for information only
Characteristics
SPECIFICATIONS
Chassis : Dodge Essence
Engine : V6 3.6L
Fuel consumption (approximate) : 15.7 miles/gallon
Length : 17.9 ft. (5.4 mètres)
Width : 7.6 ft. (2.28 mètres) (mirrors retracted).
Transmission : 6 speed automatic
Power steering, power brakes
Fuel capacity : 24 US gal.
Type of fuel : gasoline (regular)
Rear view camera
FM/AM Radio, USB Aux
Seat Belts : 4

SLEEPING SPACE
Beds
1 queen rear bed : 4.6 x 6 ft. (1.37 x 1.83 m)
Overhead Bunk : 4 x 6 ft. (1.24 x 1.83 m)
FEATURES
Air conditioning on the dashboard only
Fresh water tank: 15 gal.
Grey water tank: 8 gal.
Propane tank: 5.9 gal.
Stainless steel sink (single-handle cold water faucet)
Refrigerator and freezer (2.3 cu.ft)
1-burner induction stove
Important Note: This vehicle does not have a toilet, shower, central air conditioner and TV.
BEDDING (OPTION)
Duvet and/or blanket
Pillow & pillow case
Bed sheets
Bath towels
KITCHEN EQUIP.

(OPTION)
Kettle, pots and pans, draining board, plates, cutlery set, broom, coffee cups/glasses, hand towels/dishcloths, mixing bowls, salad bowl, assorted kitchen utensils, colander, can opener, corkscrew, teapot, coffee maker (non-electric), lawn chair, trash can, dustpan, clothes hangers and clothespins.
FLOOR PLAN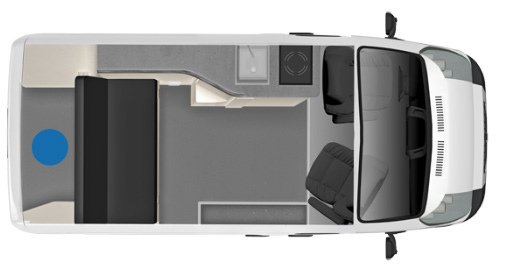 NOTES IMPORTANTES :
Actual layout may differ from that shown in the floor plan. There are several types of vehicles for any given category.
Maximum capacity: 2 adults and 2 children (Child = under 12).
Minimum age required: 25 years old.
No child seat fixings.
Supplier
This family business founded in 1974 offers a wide variety of good quality vehicles at its rental location just outside Montréal.
A young fleet and impeccable service.
The PROS of Cité Caravane
FREE GPS RENTAL (exclusive to Authentik Canada).
160 km included per day of rental.
Only supplier of diesel vehicles.
Airport transfer included.
Wide variety of models.
Extra driver is free.

The CONS of Cité Caravane
Availability can be limited.
Only in Montréal.
Closed on Sundays.