*Pictures are for information only
Characteristics
SPECIFICATIONS
Chassis/engine : Ford V-8
Dry weight: 10 530 lb. (4 776 kg)
Fuel consumption (approximate) : 20 - 23 L/100 km
Length : 25 ft. (7.6 m)
Width : 8.4 ft. (2.54 m)
Height : 12 ft. (3.66 m)
Interior heigh t: 6.6 ft. (2 m)
Automatic transmission
Power steering, power brakes
Cruise control
Fuel capacity : 55 gal. (208 L)
Max. child car seats (6 years and under) : 4

SLEEPING SPACE
Beds
1 dinette bed 3.2 x 5.8 ft. (0.97 x 1.73 mètres)
1 double overcab bed 4.75 x 8 ft. (1.40 x 2.44 mètres)
1 double rear bed 4.5 x 6.6 ft.(1.35 x 1.96 mètres)
FEATURES
Dash and roof air conditioner (110V)
Fresh water tank: 37 gal. (140 L)
Grey water tank: 16 gal. (61 L)
Black water tank: 22 gal. (83 L)
6-gallon water heater (22 L)
Propane tank: 9.5 gal. (46 L)
Shower + hot water
Flush toilet
Refrigerator, microwave, stove, oven
12 V gas furnace
BEDDING (OPTION)
Duvet and/or blanket
Pillow & pillow case
Bed sheets
Bath towels
KITCHEN EQUIP.

(OPTION)
Kettle, pots and pans, draining board, plates, cutlery set, broom, coffee cups/glasses, hand towels/dishcloths, mixing bowls, salad bowl, assorted kitchen utensils, steak knives, colander, can opener, teapot, flashlight, instruction manual, bucket and matches.
FLOOR PLAN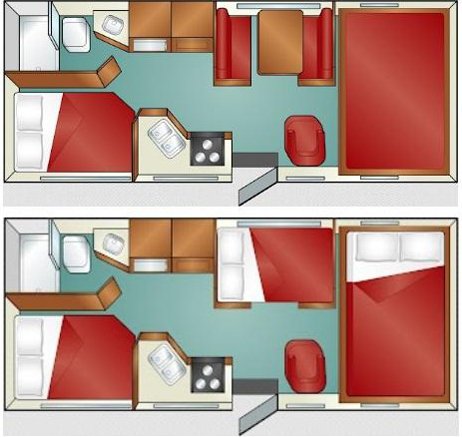 IMPORTANT NOTES:
Actual layout may differ from that shown in the floor plan. There are several types of vehicles for any given category.
Maximum capacity: 2 adults and 3 children (Child = under 12).
Children under 6 months old are permitted.
Minimum age required: 21 years old.
Supplier
With its fleet of 4000 vehicles , Cruise Canada is the largest RV rental company in North America.
This company often offers the best prices on the market.
The PROS of Cruise Canada
Cruise Canada often has the best prices on the market.
Special offers for early bookings (before January).
$0 deductible option in the event of vehicle damage (exclusive to Motorhome Canada).
Good availability due to the size of the fleet (except for one-way rentals).
Extra driver is free.

The CONS of Cruise Canada
Due to a large volume of rental, the service can be limited in peak time.
Offers only 4 different models of motorhomes in western Canada and 3 in the east.
Few options available at the counter (no GPS or child car seats).
Cannot rent to a Canadian or American citizen.
No airport transfer possible (except with the $435 "AM Pick-up/PM Drop-off" option).
Closed on Sundays.