*Pictures are for information only
Characteristics
SPECIFICATIONS
Alto 1743 travel trailer
Length: 17.25 ft. (5.26 m)
Width: 6.9 ft. (2.11 m)
Interior height: 6.8 ft. (2.08 m)
Weight: 1,592 lb. (722 kg)
Electric brakes
Flexiride suspension

SLEEPING SPACE
Beds
King-size bed converts into two single beds (6 x 6.3 ft.)
Dinette bed (3 x 6.75 ft.)
FEATURES
Air conditioning and Heating
120V 30A electrical inlet and 45A converter/charger
Fresh water tank: 15.8 gal.
Grey water tank: 15.8 gal.
Black water tank: 12.1 gal.
Fixed flush toilet and interior shower
2-burner flush mount stove
3.1 cu.ft. refrigerator
20-lb propane tank
Wall-mounted fire extinguisher
Smoke and propane detector
BEDDING (OPTION)
Duvet and/or blanket
Pillow & pillow case
Bed sheets
Bath towels
KITCHEN EQUIP.(OPTION)
Kettle, pots and pans, draining board, plates, cutlery set, broom, coffee cups/glasses, hand towels/dishcloths, mixing bowls, salad bowl, assorted kitchen utensils, steak knives, colander, can opener, corkscrew, cutting board, measuring cup, basic tool kit, flashlight, instruction manual, road maps/directions, trash can, bucket, first aid kit, extra dinner set (guest), dustpan and clothes hangers.
FLOOR PLAN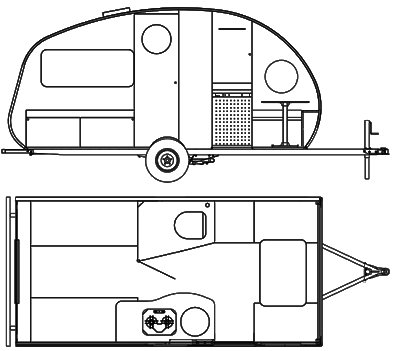 IMPORTANT NOTES:
The Alto 1743 travel trailer comes with a 4WD rental. This vehicle may be upgraded for an extra fee.
Maximum capacity: 2 adults and 1 child (Child = under 12).
Minimum age required: 21 years old.
Supplier
This little-known new supplier is a subsidiary of Discount, a Canadian car rental company.
Discount VR is found only in Montreal, with a small fleet.
The PROS of Discount VR
Wide selection of models.
Attentive and flexible staff.
Only supplier offering a direct downtown transfer service from Montreal.
Schedule flexibility, pick up and drop off may be possible on Sundays.
The CONS of Discount VR
High rates, especially in high season.
Few branches.