*Pictures are for information only
Characteristics
SPECIFICATIONS
Chassis/engine: Ford V8
Length: 20.3 ft.
Width: 7.5 ft.
Interior height: 6.6 ft.
Automatic transmission: 4 speed overdrive
Gas capacity: 40 gallons (150 L)
Cruise control
Backup Camera
Power steering, power brakes
Air conditioner and AM/FM radio with CD
Dual Batttery
Awning

SLEEPING SPACE
Beds
1 double overcab bed : 54 x 80 inches
1 dinette bed : 48 x 73 inches
FEATURES
Dash and roof air conditioner
Fresh water tank: 28.3 gallons
Black water tank: 20 gallons
Grey water tank: 20 gallons
Propane tank: 8.5 gallons
Shower + hot water
Flush toilet
Refrigerator
Microwave, stove + oven
Propane furnace
BEDDING (OPTION)
Duvet and/or blanket
Pillow & pillow case
Bed sheets
Bath towels
KITCHEN EQUIP.

(OPTION)
Kettle, pots and pans, draining board, plates, cutlery set, broom, coffee cups/glasses, hand towels/dishcloths, mixing bowls, salad bowl, assorted kitchen utensils, steak knives, colander, can opener, corkscrew, cutting board, food savers, coffee filter & thermos, teapot, basic tool kit, flashlight, axe, lawn chair, instruction manual, road maps/directions, bucket, extra dinner set (guest), dustpan, clothes hangers and clothespins .
FLOOR PLAN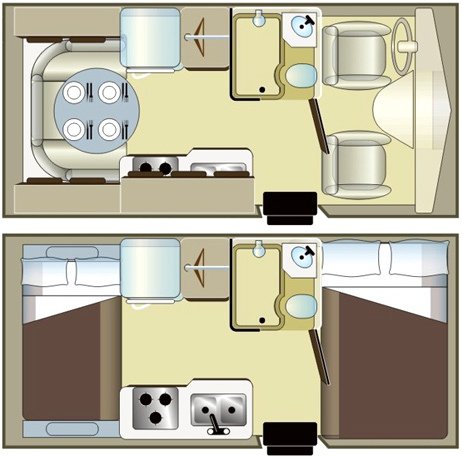 IMPORTANT NOTES:
Actual layout may differ from that shown in the floor plan. There are several types of vehicles for any given category.
Maximum capacity: 2 adults and 2 children (Child = under 12).
This vehicle is not equipped for the proper use of child seats.
Minimum age required: 25 years old.
Supplier
Founded in 2006, Four Seasons takes it's place in the world of motorhome rentals by offering excellent service for slightly more economical vehicles.

Four Seasons also offers a wide variety of models in 5 locations across Canada.
They are directly associated with a very reputable renter, Fraserway.
The PROS of Four Seasons
Competitive prices
FREE GPS RENTAL, exclusive to Authentik Canada.
Airport transfers included, as well as some city centers, some conditions apply.
FREE bedding special for bookings made before January.
Vehicles with awnings, at no extra charge.
$0 deductible option available.
Attentive staff.
Morning pick-up at no extra charge.
Pets are allowed, for an extra fee of $100.

The CONS of Four Seasons
Vehicle a little order.
Unable to do one-way rentals.
Unlimited kilometres option available only for rentals of 14 days or more.
Vehicle availability in high season is quite limited, especially for last-minute bookings (April or later).