*Pictures are for information only
Characteristics
SPECIFICATIONS
Chassis : Dodge Caravan
Engine : V6 (3.3L)
Fuel consumption (approximate) : 18 mpg
Length : 17 ft.
Width : 7.3 ft.
Transmission : automatic
Power steering, power brakes
Fuel capacity : 16 gal.
Fuel type : regular unleaded
AM/FM Radio
12v Dual battery system
Maximum seats : 5 seatbelts

SLEEPING SPACE
Beds
1 double rear bed

(3.11 x 6.0 ft.)

1 Penthouse Bed access from outside only (4.5 x 6.8 ft.)
FEATURES
Air conditioning in the cab with rear control
Sink with fresh water tank: 5.2 gal. (20 L)
Waste water tank: 6.6 gal. (25 L)
Fridge: 31-42 quarts (size not guaranteed)
2 burner gas cooker
Interior table
Blinds
Interior lights (12v)
Fire extinguisher

Important note: This is a self-sufficient vehicle, requires no need for campsites with service (water, electricity, sewer).
BEDDING
Duvet
Pillow
Linen
Bath towels
KITCHEN ÉQUIP.
All Cutlery and Dinnerware

, kitchen utensils,

frying pan, saucepan, kettle, bowls

, cutlery set,

kettle

, can/bottle opener, tea towel.
FLOOR PLAN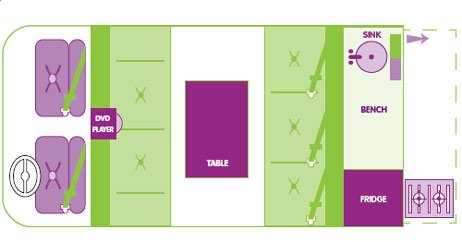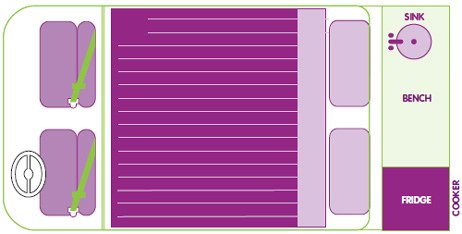 IMPORTANT NOTES:
Actual layout may differ from that shown in the floor plan. There are several types of vehicles for any given category.
Maximum capacity: 4 adults
Minimum age required: 21 years old.
Supplier
Jucy Rentals opened its doors in 2001 and quickly became a household name for camper rentals in Australia and New Zealand, growing its fleet from 35 vehicles to more than one thousand vehicles.
Since opening for business in the USA, the company has become known for its friendly staff and exceptional customer service.
The PROS of Jucy
Very good prices.
Small vehicles that are easy to drive.
FREE GPS (exclusive to Authentik Canada).
Morning pick-up & Late drop-off available.
Economical all-inclusive packages for rentals of 11 and 21 nights or more.
Additional driver is free.

The CONS of Jucy
No transfers provided to the rental location.
Only 1 rental location: Vancouver.
Closed on Sundays.